leaders of equality through arts and performance
about
Leaders of Equality through Arts and Performance (LEAP) is an interdisciplinary arts initiative by the Pioneer Winter Collective - dedicated to equality, social justice, and the transformative power of the arts. Opportunities for local LGBTQ/allied youth and artists to perform and share their creativity is rare in the community. Since 2012, we have helped address that disparity.
LEAP was created in 2012 to approach the increased needs of safe spaces for LGBTQ-identifying youth. Each year, LEAP evolves in order to meet the needs of those it serves - from dance and spoken word classes, to new media, to its most recent phase of teaching leadership and creative intervention techniques through performance - the project never stagnates. LEAP has served over 150 youth in varying capacities - typically 35 youth would attend one-off workshops and for the two years of Leadership Summits the total number committed to full-length retention was 25-30 youth. These youth then performed at various community events, where the transformation success extends beyond the increases in self-efficacy and leadership of the youth and into the general public, who may have never considered the stories, struggles, and dreams of teen voices. In 2017-2018, those voices expanded to include the voices of elders. We also partnered with Lambda Living and Love the Everglades Movement for our first intergenerational day trip to the Everglades, where over 20 folx between the ages of 16 to 61 spent a day talking, reflecting, and sharing a sense of community. Heading into 2019, LEAP is a fully intergenerational project that empowers art making and fosters all voices in the LGBTQ community that are committed to using creativity to change their lives and the lives of others.
2nd Annual leap Youth summit: leaders for equality - April 21-22, 2018
1st Annual leap Youth summit: leaders for equality - March 24-26, 2017
leap youth testimonials
"...not only were we educated on important topics such as becoming a better leader and local LGBT sociopolitical history, but all participants were brought together and remained in contact after. As a member of the LGBT+ community, my experience with LEAP provides me with the tools to become an effective leader." — Giovani, c/o 2019
"It's kind of funny because I wasn't 100% sure I was going to come to the LEAP Summit, but I'm glad I did. I was just expecting to network in a very conventional sense and apply things mechanically to my life. But the stuff we've been doing - it's not, like, mechanical at all and it feels very dynamic and very organic. I know when I get home...I'm like WOAH and the fact that it's impactful in the sense that it's thought-provoking and making me feel something...that's the best part." — Angie, c/o 2018
"...one of the things that I've noticed...I love it when people come out of their shell and expose themselves - even when we were all shy on the first day - taking that risk and being involved, and vulnerable to other people - to strangers that become their friends. It's something that is extraordinary. I can say leaving today that I have spent my time with people I respect and people I admire." — Lucas, c/o 2016
"I have been passionate about LGBTQ+ rights for a long time, and I've heard some of the most insightful reflections about the community and activism from queer and trans* youth. Unfortunately, most of us do not have an opportunity to be heard. LEAP has given me, and many other LGBTQ+ teens, a platform to not just be heard, but understood. It is a powerful feeling to hold the attention of an audience with nothing but your words." — Hunter, c/o 2018
"When I joined LEAP, I had not had much interaction with kids my own age for a couple months due to my being homeschooled after being bullied often. Now, I am Vice President of the Gay-Straight Alliance at Coral Gables Sr. High, and I am comfortable in my own skin. [LEAP] has been a constant that has helped my though difficult periods in my life. Though the ups and down, art has provided a needed, vital outlet where I felt I could express myself [...] I will really miss my time in LEAP, but I will forever be grateful for the interpersonal lessons and emotional intelligence I garnered there." —Camilo, c/o 2015
Those previously without the means to learn the performing arts and receive mentoring are now deeply invested in both the process and performance of art-as-activism. LEAP participants graduate and move on to prestigious colleges and conservatories – some in the arts, and some in other areas. Other LEAP participants are active members in their high schools' Gay-Straight Alliances and have brought theater and dance back to their own schools by spearheading after school clubs and assisting in stage productions.
LEAP Interns lead workshop in partnership with lotus house women's shelter
leap community workshops in partnership with save
Pioneer Winter Collective's LEAP program partnered with service organization SAVE for two workshops that aimed to promote community awareness and togetherness. Both of the workshops offered were open to the public in order to facilitate an environment that encouraged intergenerational and intercultural dialogue and empowerment.
live performance documentation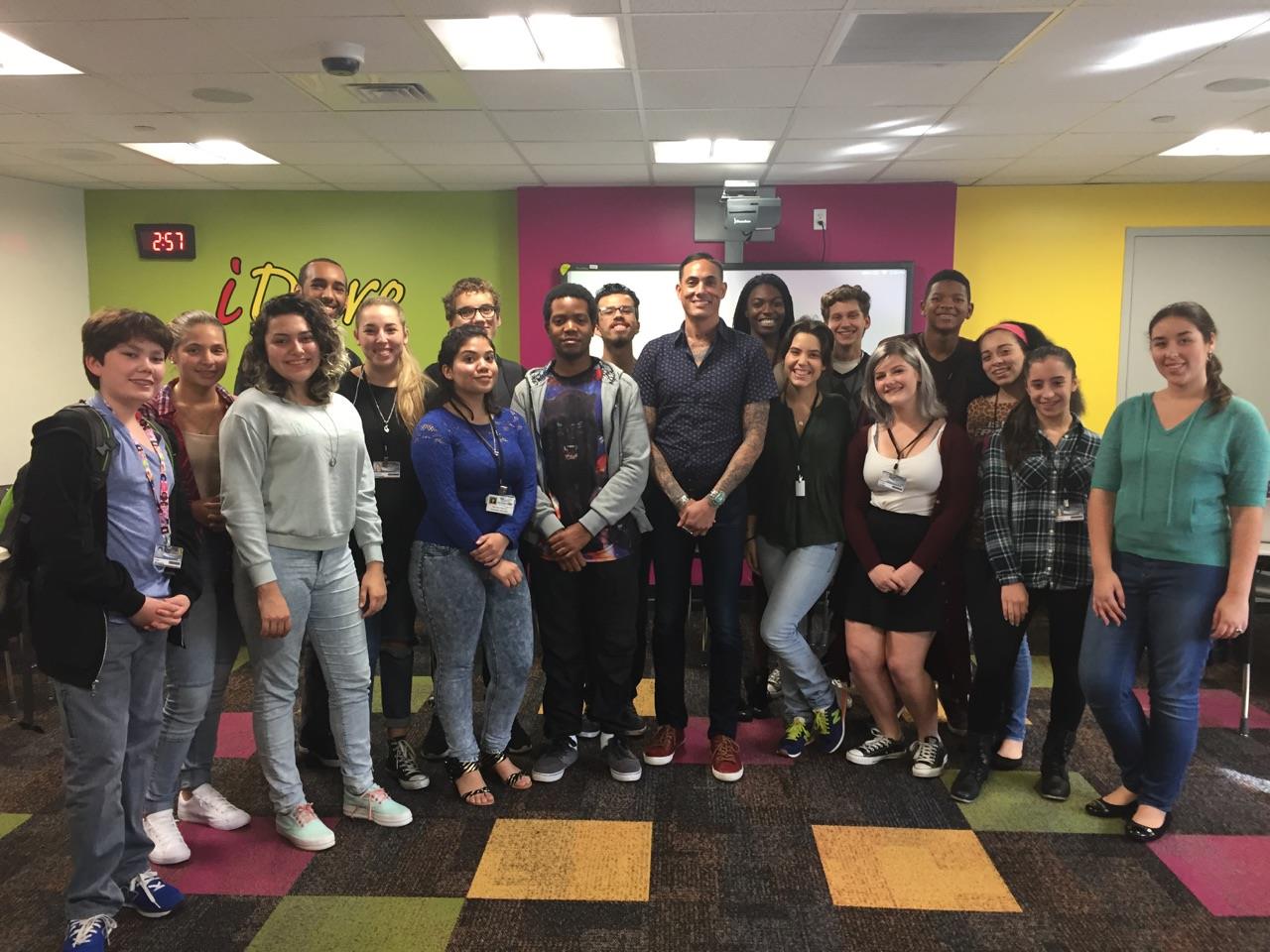 Former interns
Hunter Huseby
Hunter Huseby is a junior attending iPreparatory Academy in Downtown Miami. She has been involved with Leaders of Equality through Arts and Performance (LEAP) for two years, and helped realize LEAP's 1st Annual Summit: Youth Leaders for Equality. Hunter performs spoken word, and she is focused mainly on LGBTQ+ rights and gender equality in her poetry. She identifies as bisexual and has a passion for LGBTQ+ rights. Hunter is the president of iPreparatory's SAGA (Sexuality and Gender Alliance) and she strives to promote education and acceptance in her school.
Emilio Gutierrez
Emilio Gutierrez is a fabulous and spontaneous senior, who currently attends Coral Gables Senior High School. His passions include acting, dancing, fashion design, modeling, and photography post-production (even if it is only for his Instagram). He enjoys participating in improv shows, and is a member of Coral Gables' Thespian Troupe 0476. Emilio was part of the SWA (Sistas with Attitude) Step Team and has performed often. Emilio is focused on building a career that involves all his interests. He is working on creating a fashion line, and using social media to promote equality and raise awareness of issues that particularly effect the LGBTQIA+ community and people of color.
KENMEL GUZMAN
Kenmel Guzman is a passionate, emerging artist and currently attends Coral Gables Senior High. Kenmel loves to create vivid artwork that brings focus to social issues that are often overlooked. Kenmel involves himself in the community and strives to connect with organizations to create community events in Greater Miami. Kenmel has had the opportunity to work with American Red Cross, Rotary Club, and Miami Dolphins to create projects that serve communities both in and out of Florida, including hurricane relief and holiday giving events. When Kenmel is not working on projects or volunteering in social justice activities, he loves to talk about cats.
giovani terry
Giovani Terry is currently a high school student in Miami-Dade County with a deep passion for art, especially the visual arts. He has received awards for both his poetry and visual artwork - the latter has been included in an exhibit at Florida International University's Wolfsonian Museum in Miami Beach. Giovani has also received many academic awards such as the President's Award for Academic Excellence. He is a National Honors Society member and his school's Gay-Straight Alliance representative through which he reaches out to LGBTQ+ organizations to seek out collaboration and volunteer opportunities. In addition to attending a school for the arts, where he's exposed to theater performance and music while fine-tuning his visual art skills, Giovani is also learning to use these to better engage others regarding prevalent social issues in our society in a way that connects people and community. Giovani is especially focused on working with other teenagers in the LGBTQ+ community.
Support
This program of the Pioneer Winter Collective is made possible by a grant from Our Fund, an LGBT Community Foundation, the LGBT Community Projects Fund administered by The Miami Foundation, Resist Foundation, Miami-Dade County Department of Cultural Affairs and the Cultural Affairs Council, the Miami-Dade County Mayor and Board of County Commissioners, and Campaign for Southern Equality.
press